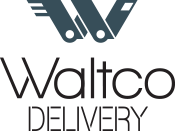 Call 920-405-0892 now because
we're here to get it there.
Waltco's fleet of delivery trucks are on the road 24/7 to ensure
your package gets to where it needs to be when it needs to be there.
We are experts at creating customized shipping solutions
designed to fit any business's needs perfectly.
Waltco Delivery service options include:
Scheduled Delivery
AM & PM Financial Delivery/Pickup
AM & PM Postal Service
Inter-office Mail Delivery
Overnight Package Delivery
Same-day Package Delivery
Pre-8:00AM Priority Express Service
Distribution